Recycle Outdoor Gear – Recycling Old Equipment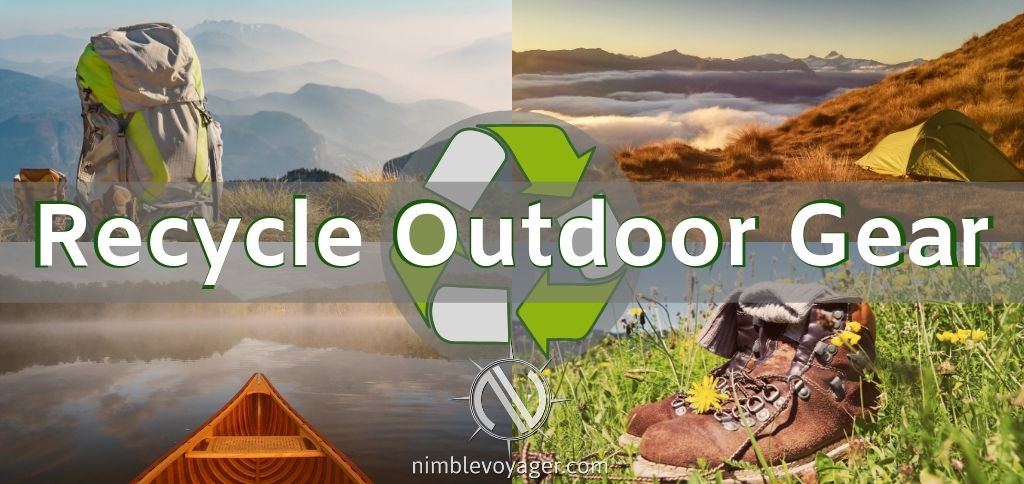 Disclosure: We may earn a small commission from some of the products mentioned in this post. If you click a link and make a purchase - at no additional cost to you - you help us keep this site online. Thank you for your support!
Do you have old hiking, camping, climbing or adventure equipment that is beyond repair? Are you opposed to just dumping it in a landfill? We have good news! There are several options to recycle outdoor gear. We'll show you some options to upcycle, re-purpose or simply recycle it.
Reasons for Recycling Old Clothing and Equipment
According to recent estimates by the EPA, textiles account for 16 million tons of annual municipal waste. The majority of that comes from discarded clothing and footwear. Certainly, the outdoor industry bears a portion of the responsibility. Beyond simple volume metrics, technical fabrics and other exotic materials introduce hazardous chemicals to the waste stream. But how do we keep this stuff out of landfills? Well, we have several options to recycle outdoor gear.
Options to Recycle Outdoor Gear
If you have old gear that is worn out or otherwise unusable, don't throw it away. Growing environmental concern and a sense of social responsibility in the outdoor industry has led to a host of options for your heavily loved stuff. Consider any of the following before tossing outdoor gear.
Option 1: Upcycle Worn Gear
Upcycling is one way to recycle outdoor gear. It is the process of making something new out of something old. Basically, once an item has outlived its original purpose, it can be used to create something else. You tend to see this a lot with old clothing. However, there are many companies that will take other stuff. Check out these sites for upcycling options for outdoor gear:
Option 2: Re-purpose Old Equipment
You can also re-purpose your clothing or equipment for personal use. That just means using it for something else. It is similar to upcycling, but you end up keeping the final product. Here are some great sites with lots of ideas.
Option 3: Recycle Outdoor Gear
Finally, if you can't find a new use for your damaged gear, you can recycle it. You might be surprised at how many materials are actually recyclable. Many plastics can be thrown right into your standard recycling bin. Just check to ensure they have the appropriate logo and number for your local programs. Metals are also very recyclable. Some can go in your container, while others need to go to a recycling center. If you have questions about how or where to recycle something, check with your local waste management center or check out earth911.com.
Final Thoughts - Recycle Outdoor Gear
Rather than throw away your old adventure equipment, consider giving it new life. There are many options to upcycle, re-purpose or recycle outdoor gear. If you haven't found anything useful in the above suggestions, contact us directly. We would love to help you find an alternative to the landfill.
As always, if you have any suggestions, we would love to read them in the comments below.