Best Inflatable Paddle Boards (iSUP)
Disclosure: We may earn a small commission from some of the products mentioned in this post. If you click a link and make a purchase - at no additional cost to you - you help us keep this site online. Thank you for your support!
Stand up paddle boarding has become hugely popular in the last few years, and for good reason – it's a great workout, a chill way to hang out on the water, and excellent balance training. After a lot of shopping and research to find the best inflatable paddle boards, I decided on the Ten Toes Weekender a few years ago; I couldn't be happier with my purchase! I'll share all of my experience and every option I considered to help you find the best one for you.
What to Look for in a Stand-up Paddle Board
There are lots of considerations when choosing a SUP. I used the following criteria while I shopped. Everything is subjective and you'll have to decide what works best for you. But this should get you started.
My main parameter when I started shopping for a SUP was that I needed an inflatable board. I lived in a one bedroom house that simply didn't have room for a ten-foot plastic or fiberglass board. While it does require some work to pump it up, inflatables are much more portable and easier to store.
I will admit, having a pretty board was high on my list of priorities. If I was going to spend the money, I wanted something with a pleasing design and color scheme. Obviously everyone's taste will be different here, but I was looking for a simple design without being boring. Almost everything I own is aqua blue, so I searched for something in that color range as well.
My budget was around $600. This eliminated some of the more expensive boards right off the bat. I also looked primarily at boards that had free shipping options, since shipping a giant 40-pound box is quite expensive.
To evaluate quality, I had to depend on customer reviews since most stores near me only carried hard shell boards; and it's not as if I could test-paddle all the boards I was considering. I looked at reviews on several different seller websites, including the manufacturer website for each board, Amazon.com, Walmart.com (what DON'T they sell?), REI.com, Costco.com, and a few comparison blogs. 
As for other characteristics, I considered durability over time, beefiness of construction, and ruggedness. These things will run ashore, bump rocks, etc. I also factored in customer comments about the 'ride' of the board. Specifically, I looked at things like stability, the size and texture of the deck pad (where you stand), and whether the board tracks straight in the water as you paddle.
Paddle boards vary in shape based on the intended type of paddling. Boards with aggressively pointed front ends and narrow bodies are designed for speed and cutting through waves. They are also less stable. A wider bodied board with rounded ends is better suited for leisure paddling. Some more coordinated individuals can even use them for SUP yoga.
I knew I wouldn't be entering any races with my board. My main use would be relaxed paddling or just lounging and tanning on a lake. I also prefer the look of a rounded, symmetrical board, so I mainly shopped for that shape.
Boards also come in a variety of lengths, ranging from eight to fourteen feet. I didn't want a gigantic board because it would be heavier, larger to store, and take longer to pump up; but I did want to comfortably fit two people sitting on it. Therefore, ten to eleven feet was my ideal range. 
Different shape and length boards have varying weight capacities. Be sure to check for an appropriate capacity for yourself and any other intended passengers. I looked for one with a high capacity so I wouldn't be swamped or damage the board if I brought a friend along with me.
It is standard for SUPs to come with a paddle, detachable fins, a pump, and a patch kit. Some include an ankle leash, carrying backpack, and extra deck pad material as well. I would have liked a backpack for my board, but it wasn't a deal-breaker. The ankle leash wasn't a huge concern for me either; I didn't plan to do any ocean paddling where there's a higher probability of getting separated from the board.
Best Inflatable Paddle Boards - The Competition
The iRocker Cruiser is a great quality ten and a half foot board with excellent reviews. The design wasn't my favorite and it was a bit over my budget; but it has a 400 pound weight limit and the paddle features a genius rubber edge so it won't get chipped. This board has two permanently fixed fins and one larger removable fin. 
Pros: At the time of writing, this board has excellent reviews on Amazon; comes with leash, backpack, and fast triple-action pump; extra wide board that's good for beginners; free shipping, three fins
Cons: Even before tax, the price was out of my range; slightly aggressive shape; didn't love the design; two non-removable fins seemed like they would be hard to deal with when rolling up the board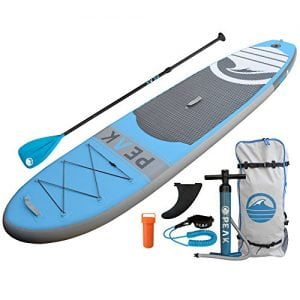 The PEAK iSUP is also ten and a half feet, and while it has a more appealing design in my opinion, the quality is sub-par. It earned only 3.9 stars out of 5 from 390 reviewers, with 13% of the ratings 1 out of 5 stars. I always take one-star reviews with a grain of salt, but it's a red flag to see such a high percentage of them, and almost all of the negative reviews cited a burst or leaking board within the first few uses, with ensuing poor customer service. Yikes! I was also concerned by the fact that the board only had one fin, which seems like it would lead to poor tracking in the water.
Pros: The price with free shipping fit my budget; appealing design; comes with all the accessories
Cons: Liable to leak air or burst at the seams; reports of poor customer service and difficulty returning defective boards; single fin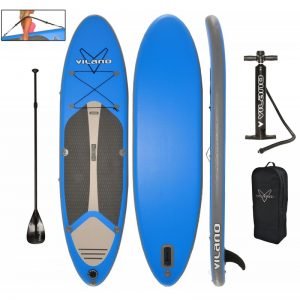 The Vilano Navigator ten foot board is the cheapest option I considered, at a little over half of my budget, including free shipping. While it was tempting to save money by going this route, the extremely low price actually brought up concerns about the quality that I couldn't overlook. It earned 4.4 stars out of 5 from 82 reviewers, but 7% of the reviews were 1 star. This board also has only one fin, and reviewers reported poor quality construction, instability, and repair hassles.
Pros: Cheapest option; good for beginners
Cons: Questionable quality and construction; one fin; potential issues with instability
The Body Glove Performer eleven foot board is very aggressively shaped. This board does have three fins and 4.8 out of 5 stars from 92 reviewers on costco.com, where it's reasonably priced at $399, which includes shipping. Costco currently has the best price on the package, with the board listed at $949 on the Body Glove website. You do need a Costco membership to purchase from them, but even after the $50 annual membership fee, the savings are significant over other retailers. My dad bought this board as a gift for my mom recently and she loves it! 
Pros: Reasonably priced through Costco; great reviews; three fins; Mom-approved
Cons: Aggressive shape; need Costco membership to purchase it at this price
Hard shell boards are awesome if you have the room to store them and a way to transport a gigantic board. They are sturdy and very stable in the water, but tend to be more expensive than inflatable boards. Some of the hard boards have amazing designs and even feature beautiful woodwork, but they are delicate and will get dented or scratched if you run into docks, rocks, etc. (likely when you're just starting out).  
Pros: Stable in the water; don't have to pump up the board every time; beautiful designs
Cons: Delicate; more difficult to store and transport; generally more expensive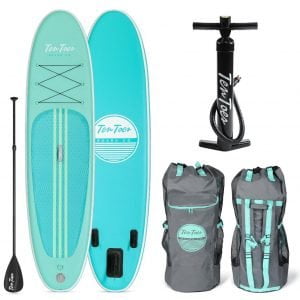 I ultimately chose to buy a Ten Toes Weekender ten foot board. The price was right under my budget with free shipping, I loved the simple design and chill vibe of the board, and it was available in my signature aqua color. The Weekender comes with three removable fins, a paddle, a patch kit, a pump, and an extra piece of deck foam. It did not include a backpack at the time, but it appears you can order it with or without one now.
Ten Toes also sells an eight foot Nano junior board, an extra wide ten foot Yogi board, and a twelve foot Globetrotter board. They have updated their board designs each year, and when the new design comes out, they sell the remaining previous year's boards at a discount – something I wish I'd known when I bought mine! 
It had the best overall reviews across multiple websites, and their manufacturer website, return policy, and customer service when I asked a general question all reassured me that I was buying from a high quality company that produced durable boards.
My Thoughts Three Years Later
Since I bought this board in 2015, I have used it frequently and still love it! I am extremely happy with my Ten Toes board. People comment on it all the time. Here's the detailed verdict:
It was worth the price, and still works as well as the day I got it. It's beautiful and functional, and is very stable in the water. It tracks straight and true – unless you forget to put the fins on. Oops. It can easily carry two people and is the perfect size for solo paddling, lounging, or floating with a friend. The board rinses clean easily and the color hasn't faded at all. It is so nice to be able to paddle straight onto shore or bonk your board against a dock without worrying about denting fiberglass or plastic! The board is stiff at first but quickly breaks in so rolling it up becomes much easier.
Where the logo stripe across the top of the board meets the sidewall seam, the sidewall rubber has peeled back a little bit on both sides. This is a cosmetic issue only and no air leaks out, and the newer models don't have the logo stripe, which I assume has eliminated this concern. There wasn't an option to purchase a backpack when I bought mine, but now Ten Toes makes a very comfortable-looking backpack that you can opt in or out of when you purchase a board. About two years after purchasing it, I did have a leak from the air valve, but after a quick search for troubleshooting common problems on their website, I discovered I simply had to twist the valve in tighter, and I've had no problems since.
Would I buy this board again? Yes. In fact, I rave about it so much that both my sister and my boyfriend have since purchased Ten Toes boards! It is the best of the best inflatable paddle boards.
A word to the wise – if you opt for an inflatable paddle-board, be ABSOLUTELY SURE you have the air valve in intake-only mode before you start pumping. I have learned this soul-crushing lesson several times by pumping my board up to 15 PSI with much sweating and exertion, only to disconnect the pump and have all that precious air escape. Now I triple or even quadruple check before beginning.
Happy paddling!