Five Best and Lightest City Bikes
Disclosure: We may earn a small commission from some of the products mentioned in this post. If you click a link and make a purchase - at no additional cost to you - you help us keep this site online. Thank you for your support!
Established in 1956 by the League of American Bicyclists, National Bike to Work Month encourages more people to ride bikes. The most popular day of the month is Bike to Work Day, promoting commuting by bicycle. According to the League of American Bicyclists, 40% of all trips in the United States are two miles or less. This makes bicycling to destinations more reasonable and fun for people. Bike to Work Day has grown in popularity over the years, with more cities adding Bike to Work events yearly. Now, with many more choices available today than ever before, there are hundreds of bikes to choose from. But not all are the lightest city bikes.
A city bike is useful for people who have relatively short and flat commutes. These are great for people who want to ride in normal clothes through different kinds of weather. However, a city bike is most notable for its utility rather than for recreation or sport. Because of this, they're typically a bit heavier than road bikes. To help you get to your destination more efficiently, we searched for the best and lightest city bikes available today.
Benefits of light city bikes
Heavier bikes aren't a problem if you have a flat route to and from work, but not everyone is that lucky. Hills on heavier bikes aren't easy and you may end up soaking your work clothes with sweat. In contrast, a lighter city bike is easier to pedal uphill, helping you stay sweat-free when you arrive at your destination.
We selected five of the lightest and best city bikes for commuters. They are listed in order, by descending weight.
Now, let's take a closer look at our top picks for the best and lightest city bikes for your commute.
QUICK SPECS – Trek FX 2 Disc
Price:
$609.99
Weight:
26.64 lbs (Large)
Sizes:
S, M, L, XL, XXL
Drivetrain:
Shimano Altus M310, 8-speed
Brakes:
Hydraulic disc brakes
Advantages
The fifth lightest city bike we found is the Trek FX 2 Disc. It's equipped with disc brakes which makes riding in wet weather a breeze. Riders won't have to worry about their braking abilities through town with the stopping power of these things. They're more reactive and reliable than rim brakes.
As for the frame, it is quite sturdy and has a built-in DuoTrap S that integrates with Bluetooth/ANT+ technology. This allows for riders to track their rides with computer devices without needing external sensors. The frame also comes rack and fender ready.
The Trek FX 2 Disc is a budget-friendly fitness and city bike. This is great for someone just starting to commute by bike who wants a reliable ride. It only weighs a tenth of a pound more than the Acme Commuter bike and it's less than one-third the price. Best of all, it's from a well-recognized brand and the least expensive option to make our list.
Challenges
Overall, the consensus among buyers is a need to replace the seat and handlebar grips. Both weren't comfortable for many customers. It seems that for longer commutes, the seat and handlebar grips would become a nuisance. If you have a short commute, you may never notice either of these two issues. That being said, replacing the seat and handlebar grips will add to the cost of the bike. It will also require time to try out some options.
How other people feel about the Trek FX 2 Disc
Most people who've reviewed the bike have given it either a 4 or 5-star rating. Andy, a customer, said this: "Compared to my old (getting on for 30 years) monster of a bike this one is a dream. The gearing makes every route an effortless pleasure. The lightweight frame is so easy to sling about it makes parking and storing a doddle. The saddle is a bit firm, but not to the point of discomfort. It takes all surfaces in its stride without rattles or vibrations, and the disc brakes are awesome."
Several people mention the need to change the handlebar grips as they aren't as comfortable as they had hoped. Graham, another customer, had this to say about the grips: "I replaced the handle bar grips as they were constantly moving on me and a little short (my hands would get jammed up into the gear shifters. Otherwise I love the bike. Comfortable, feels great going with speed and easy to control." You might consider a set like these non-slip rubber adjustable grips.
QUICK SPECS – Spot Acme Commuter
Price:
$1,999.00
Weight:
26.5 lbs (55 cm)
Sizes:
50 cm, 52 cm, 55 cm, 57 cm, 60 cm
Drivetrain:
Shimano Alfine 11-speed, RapidFire Plus
Brakes:
SRAM Level hydraulic disc
Advantages
The fourth lightest city bike is Spot's Acme Commuter. It has 11-speeds, which makes it easier to bike over varying terrain like hills. With an internal hub gearing system, you can even change gears while stopped. This makes it easier to downshift before takeoff rather than mashing the pedals to start going again. 
Out of the five best and lightest city bikes, the Spot Acme Commuter is the second-heaviest, albeit at a mere 26.5 pounds. Spot has done a fantastic job providing commuters a dependable and quick bike without weighing it down, like typical city bikes. 
With a leather saddle, upright seating position, and the ability to attach a rack with panniers, this bike is great for someone who wants to have a comfortable ride, but needs to get to work fast. You won't be lollygagging with this option. 
Challenges
Internal hubs: The Spot Acme Commuter has an internal gearing hub. This means the gears are inside the hub instead of outside, like a typical bike. Unfortunately, if there is an issue with the gearing or the hub, it will be difficult to fix it yourself. That's under the assumption that you know what you're doing. Otherwise, you'll need to take it to a bike shop or specialty store. Typically, manufacturers have bike shops swap out the internals for new hubs because they are difficult to repair. 
Additionally, if you ever get a rear flat tire, hub gears can make it difficult to remove the rear wheel without also having to disconnect the gear cables. If you're running late to work and puncture a tire, this will delay you even more.
The price is also much higher than a typical city bike – mostly due to higher quality components. Unfortunately, $2,000 for a commuter bike isn't in everyone's budget.
How other people feel about the Spot Acme Commuter
Most people on Spot's website rate the Acme Commuter five stars. People are excited about how well the bike rides for their commutes. It's fast, lightweight, and the gears change seamlessly. People have put this bike through bad weather, up hills, and around cities and most are impressed. One customer, Chris said, "I can confirm what others before me have indicated, i.e. a robust and finely conceived bike that performs worthy of its class. I bought the bike mainly to save on maintenance cost and trouble due to my year-round PNW commute (3 gear cassettes last year!), but in addition to that the ride feels smoother and faster than my previous (not unexpensive) bike."
The bike is shipped in pieces so it looks like VeloFix partners with Spot to assemble the bike. Some people were confused with the shipping and building process while others had no problems with it. Another user had this to say about the assembly: "First issue was incorrect headset setup. There was significant play in the headset that ultimately I corrected by adding an additional headset spacer to the stack. On one hand, minor issue, but left as is I am certain the headtube would have become ovalized under normal use, then forever there would be headset issues. I've seen bikes with ovalized headtubes and they're basically just a huge disappointment to the owner."
If you decide to order this bike, make sure you have a professional assemble it in order to avoid any issues with the bike in the future. Most folks have had great experiences on the bike, so as long as it's built correctly, the ride should be smooth like butter.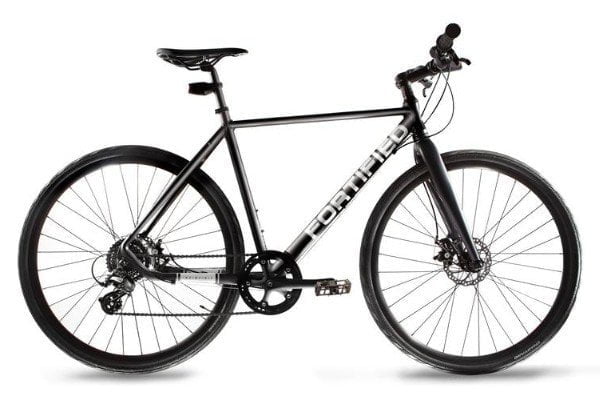 QUICK SPECS – Fortified Invincible 8-Speed
Price:
$749.00
Weight:
26 lbs
Sizes:
S (50 cm), M (54 cm), L (58 cm)
Drivetrain:
Shimano Altus, 8-speed
Brakes:
Tektro MD-280 mechanical disc
Advantages
Nowadays, bikes are stolen easily, frequently, and in broad daylight. With Fortified's proprietary stainless steel water bottle screws, top cap bolt, stem faceplate bolts and stainless steel bolts, thieves won't be able to steal parts off your bike without the special wrench. Cyclists with the Fortified Invincible 8-Speed bike will rest easy knowing they'll return to their bike in one piece. This doesn't mean you can leave the bike outside sans lock. In fact, Fortified sells a custom-designed U-Lock so you secure the frame to an immovable object. It's an extra security feature for your bike so that it will still be where you left it after work.
The Fortified Invincible 8-Speed bike comes with front and rear lights that can also be locked to the bike frame. This means riders won't have to bring all their gear with them into the office. You can leave it on your bike, worry-free. Out of the five lightest city bikes, the Fortified Invincible 8-Speed has the most security features.
Riders can take this bike on varying terrain with "puncture-resistant" tires. They claim, "never worry about potholes or rough roads again." Based on this claim, riders are less likely to get pinched flats while riding on the roads. It's another perk for the security-obsessed. The peace of mind that'll come with this city bike makes it a great selection, especially for the price.
Challenges
Based on the 32 reviews on their website, there are little to no complaints about the bike. Alternatively, on Amazon, a few customers complained about the rims and tires going flat. There were two customers who experienced flat tires. We're curious why Fortified states the tires have puncture protection yet customers are still experiencing flats. The site does state it protects from rough roads and potholes and the Amazon customers do not specify how they got the flats. These could be one-off cases, but we're adding these flats to the Con List for this bike.
How other people feel about the Fortified Invincible
Brandon, a customer from the website, said: "So happy with my 8 Speed! All-around A+. Custom security bolts are really nice to have. I was going to order it through the website but went with Amazon due to the free assembly, which I am so thankful for. If you assemble it yourself I recommend taking it to a bike shop to get it tuned afterward so the gears run smoothly."
On Amazon, a customer said: "Updated review: I originally gave this bike a 2* review due to some issues that were not the manufacturers fault. OK – I admit it, I overreacted. The rear tire went flat due to a rough patch on the inner rim – which I'm still miffed about. The bike mechanic made some minor adjustments & the bike is as it should be. I purchased this after much debate for the anti-theft features. I ride in an urban area with medium to heavy traffic. I use my bike on weekends for light errands. The gears & brakes are easy to access & work smoothly. The disk brakes are a plus. The seat is comfortable. The ride is smooth. Great bike. (FYI – I am 6'2″ 7 I purchased the XL frame & it is great for my height.)"
Buy the Invincible directly from Fortified
QUICK SPECS – Brompton B75
Price:
$995.00
Weight:
25.5 lbs
Sizes:
One size
Drivetrain:
BSR 3-speed
Brakes:
Brompton dual-pivot calipers w/Fibrax cartridge pads
Advantages
Of the five best and lightest city bikes, the Brompton B75 is the only fold-able option. If you don't want to leave your bike outside or if you have to take different modes of transportation to get to work (bus or train), the bike easily folds into itself to 22.2" x 23" x 10.6". Once folded, the Brompton B75 can be stored away without taking up excessive space. You can bring it into an Uber, bus, and train without taking up too much room.
Challenges
On some of Brompton's other foldable bike models, the pedals also fold. Unfortunately, the Brompton B75's pedals don't. This has the potential to be a nuisance, perhaps getting caught on seats. One owner suggests replacing the stock pedals with a removable option.
Three gears: You're likely to run out of gears fast with only the choice of three. This means you may have very high cadence on a flatter or descending road to keep up speed or to speed up. Alternatively, it may mean mashing your pedals up a hill or having to get off and walk it if you don't have an easy enough gear. While it's lighter than the previous three bikes listed, it also has the least amount of gears.
How other people feel about the Brompton B75
Some reviewers were unhappy to see that the bike does not come with mudguards, as this is advertised as a city bike. No one wants to arrive to work with mud splashed up the backside of their pants. However, none of the other lightest city bikes we've listed come with these. But have no fear, you can buy full carbon mudguards to the Brompton bike and there is a full line of accessories as well.
Some comments about the Brompton's B75 said, "The folding left pedal on the Bromton is a terrible bit of engineering. I've managed to break two from normal riding, so I've replaced it with a MKS removable pedal. Much more robust solution. I think for most short commutes the 3 gear version is just about perfect."
Another person brought up the different saddle and potential compatibility issue: "It comes with –12% lower gearing. I can only see this as a benefit unless you live somewhere very flat as the standard gearing is far too high, IMHO. I'm sure very few of us ride bikes with a lowest gear of 49", which is equivalent to 42/24 on a bike with 700c wheels – most road bikes with a compact chainset would have a lower bottom gear.
Arguably the unique 'water blue' frame colour gives the B75 the cachet of a limited edition.
Not only will the price of the B75 give pause to those who have recently paid full price for a three speed Brompton, it will also affect the second-hand price achievable for those with a recent model to sell. That said, I wouldn't expect the B75 to have an extended production run as it appears to make use of superseded components."
Buy the B75 directly from Brompton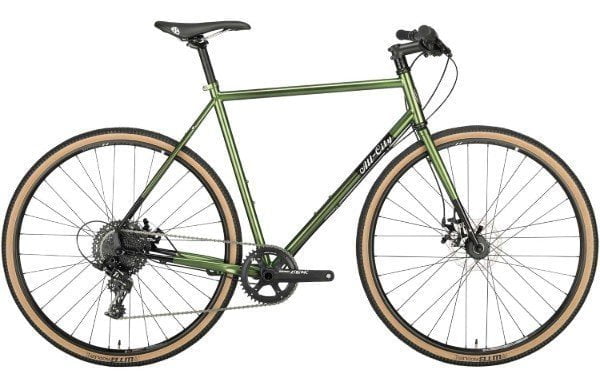 QUICK SPECS – All City Cycles Macho Man
Price:
$1,500.00
Weight:
25 lbs (55 cm)
Sizes:
42cm, 46cm, 49cm, 52cm, 55cm, 58cm, 61cm
Drivetrain:
SRAM Apex 11-speed
Brakes:
Promax DSK-300 mechanical disc, 160mm
Advantages
Out of all of the lightest city bikes we've listed, the All City Cycles Macho Man comes with off-road capabilities. With a CroMoly frame, disc brakes, a flat bar, and the ability to clear 38c tire (650b x 42c on the smaller sizes), this city bike is ready for cross, gravel, and your morning and evening commute. It's sturdy with a steel, CroMoly frame that handles tough terrain like its name suggests. Disc brakes makes stopping in wet weather and muddy terrain safe and easy. With flat handlebars, riders remain in control and in a comfortable upright position. Out of all the bikes listed, it comes in at the lightest, which makes commuting that much easier. 
Challenges
If you only ride on the road during commutes, then this city bike will feel slower than a drop bar alternative with road tires. This city bike is best for mixed terrain folks who enjoy dirt and gravel while commuting to and from the office. Additionally, with the limited gearing, steep mountain bike trails may be a bit of a challenge – although, not impossible. 
The Macho Man does not have suspension, so it's not made specifically for mountain biking. If you want to hit technical mountain bike trails, this bike isn't for you either. Folks who've bought this bike enjoyed the fact that the tires were large enough to take on flowy dirt roads and popping back on to the road when they wanted. 
How other people feel about the Macho Man
So far, most folks seem stoked on the bike. Until 2018, All City Cycles only made the Macho Man with drop bars. Now it comes with flat bars, making it a more upright ride for cyclists. One customer said this about the bike: "Needed a good commuter and something I can ride on trails. Have been riding drop bar bikes for a while and this is my first flat bar bike on about 10 years. It so much fun to ride. Comfortable and quick, great on city streets but also dirt and gravel trails. 1x SRAM with the 42 x 11/42 gearing basically has me covered for 95% of the stuff I ride. I live in San Francisco with some very steep hills and have had no problems with this set up. It's a perfect compliment to my road bike…I couldn't be happier."
Why a light bike is better
Choosing one of these lightest city bikes will benefit you on hills and through the city. A lighter bike mean less weight to move. We've listed five of the best and lightest city bikes here for all types of folks: The city slick who appreciate a comfortable yet fast ride to work, the person who isn't afraid to get wet or dirty, the safety-obsessed rider, the multi-modal traveler who needs to foldaway their bike, or the adventure-seeker. Any way you look at it, there's a light city bike for everyone.
Traveling by bike is a fantastic and healthy alternative to commuting by car. When you commute by bike, you get to experience the outdoors in a way unlike being boxed in your car. Riding one of the lightest city bikes we've listed here is a great form of exercise and stress relief. Imagine all the people sitting in traffic as you zip by them on your city bike. 
Need to clear some space before you buy one of these lightest city bikes? Have a look at our article, Organizing Your Outdoor Adventure Gear for tips on paring down and selling your old stuff.