Things To Do in Antigua Guatemala
Disclosure: We may earn a small commission from some of the products mentioned in this post. If you click a link and make a purchase - at no additional cost to you - you help us keep this site online. Thank you for your support!
Like a lot of Central America, Guatemala can be a bit of a shock to the average tourist. You will still see the famous "chicken" buses bursting at the seams, narrow streets packed bumper to bumper, and seemingly fragile shacks dotting the hillsides. However, Antigua is more culturally rich than most Central American cities. It's a vibrant city, blending the past and present to create a traveler's dream. The people are warm and friendly, the food is fantastic, and the setting is charming and photogenic. We'll share our favorite things to do in Antigua Guatemala.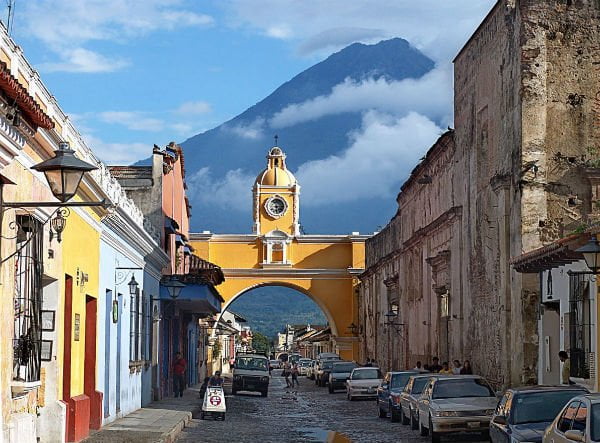 Volcanoes and coffee farms surround the valley in which Antigua is nestled. It's a UNESCO World Heritage Site because it was the former Spanish capital of Central America. Though several earthquakes forced the Spanish to move the capital, many of the 16th and 17th century buildings from the former Spanish city have been preserved. As a result, it's a photographer's dream: full of brightly colored villas, churches, cobblestone streets, and the ruins of the former city around every corner.
Antigua is small enough to easily walk. The central park is a nice place to start. Local women sell fresh mangoes, pineapples, and papayas to snack on. Sit in the shade with your tasty fruit while enjoying the restored fountain and people-watching. The indigenous Mayan descendants, in their beautiful hand-woven clothes, are an integral part of Antigua's colorful atmosphere. But, please be respectful and ask permission for pictures. You'll also see well-preserved colonial architecture around the park. Some favorites include the Captain's General Palace, City Hall, and the beautiful Cathedral of Saint James.
Just a short walk from the city center, you'll find the iconic Santa Catalina Arch, the most famous and picturesque landmark in Antigua. This bright yellow arch with Volcan de Agua looming in the distance once connected two buildings of a convent. It's hard to pass up a lovely photo on this colorful cobblestone street with the arch and volcano in the background. Plus, between the Historic La Merced Church and the arch, you'll find authentic Guatemalan street food and handmade wares.
For a small donation, you can explore the ruins of the Cathedral de San Jose Guatemala. It's one of the largest and most accessible ruins in the city. The cathedral features soaring brick arches and even crypts. There are countless ruins scattered around Antigua, and almost all of them offer tours if you want to delve deeper into the city's history.
Finally, for a quick excursion out of town, take a short hike up Cerro de la Cruz. An easy forested hike leads to a beautiful vista overlooking the city. This little side trip is definitely worth it for the view of the tile-roofed city at the base of Volcan de Agua.
Thanks to the rich volcanic soil and year-round temperate climate, the area surrounding Antigua produces some of the best coffee in the world. Gourmet coffee shops pepper the city. Consequently, you are never more than a cobblestone's throw away from an exquisite cup of Guatemalan coffee. Refuge Coffee Bar, a specialty roastery featuring a variety of brewing methods, is a favorite with visitors. The owner Jim is an expat who was one of the first to bring true barista craft to Antigua. Pair that with some of the choicest beans in the world and…you get the picture. Definitely worth a visit!
For a great learning experience, visit Finca Filadelfia. They offer many different tours for those who want to know more about where their coffee comes from. Most noteworthy, you can add a bit more adventure to your coffee experience with a mountain biking coffee tour! There are a few to choose from and they're definitely a bit more exhilarating than a walking lecture about coffee that drops you off at a gift shop.
Explore Local Restaurants
There is no better way to get to know a culture than through its food, and there is no shortage of great food in Antigua. For a unique dining experience try Por Que No? It's hidden on the edge of downtown, in the corner of a nondescript red Spanish style villa. It has an Irish pub feel on the surface but the details and food are Central American fusion. The place has a lively casual feel and is popular with travelers, expats, and locals.
Owner and server Carolina is extremely welcoming and attentive. Funny story: When I first met her, I was asking for directions to another restaurant in the neighborhood, which she more than happily helped with. She spends each night running up and down a ladder, hands full of hot dishes, to get to the loft where the majority of the seating is. The hospitality, fantastic dishes, and professional presentation will leave a lasting impression on your visit.
After the inspiration all the great food Antigua has to offer, you can take a cooking class. La Tortilla Cooking School and Market Tour was the most enjoyable experience I had in Antigua. The owner, Braulio, started the evening with a tour of the historic market in the center of town. Interestingly, the government of Spain beautifully refurbished the market for use as an extension of their embassy. Then, Braulio took the group on a behind-the-scenes tour of the new market to buy fresh produce for our dinner. He explained how to help the local merchants by avoiding cheap Chinese knock-offs of Guatemalan blankets and clothes. Similarly, he taught us to support local farmers by avoiding any produce with a sticker. These imports undercut the price of produce so severely it's impossible for small local farmers to make a living. 
Then it was on to dinner. A translator assisted our Mayan cooking instructor. She taught us to make traditional Guatemalan dishes, including the national dish Pepian (a savory stew) and handmade tortillas. It's hard to fully appreciate Guatemalan food without making it yourself; it is certainly a labor of love. They roast, blend, and crush everything but the kitchen sink to create remarkably complex and rich flavors. As an added bonus, while making dinner you make instant friends and will enjoy endless tales of adventure from expats, travelers, students, and vacationers. The stories and wine flow all night. Don't worry if (the wine makes) you forget the recipes – they email them to you.
Do some shopping! If you took the market tour, you'll have great insight and know where to find the good stuff. The city is full of shops and markets selling authentic handmade Guatemalan goods. Visitors certainly love the all-in-one market under the famous arch called Nim Po't. It has practically everything you could want for a fair price. You can easily lose yourself in the various shops and end up spending the entire day shopping.
Share Your Favorite Things to Do in Antigua Guatemala!
An absolute gem, Antigua should be included on any Central American travel itinerary. Another bonus: It makes a great hub for other adventures to Mayan temples or various popular sites in Central America. Share your favorite things to do in Antigua Guatemala in a comment below!