Happier Camper HC1 Review: Compact Travel Trailer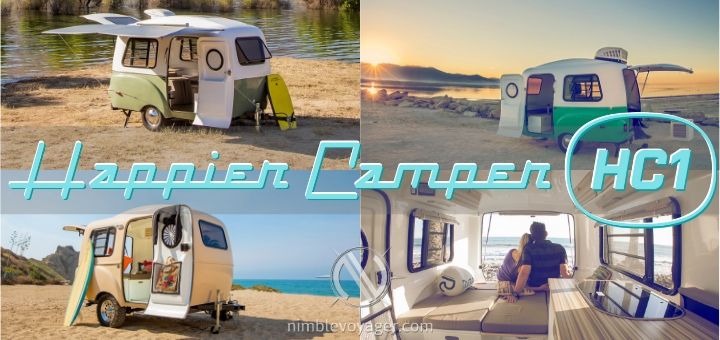 Disclosure: We may earn a small commission from some of the products mentioned in this post. If you click a link and make a purchase - at no additional cost to you - you help us keep this site online. Thank you for your support!
So you want to travel light while enjoying the amenities of the modern age? And you want tons of flexibility? Let me introduce you to a unique and fun little travel trailer in our Happier Camper HC1 review. It's cute, capable and configurable. What more could you want?
This is my favorite micro camper on the market today. It combines a touch of retro with Ikea-like functionality. That means it's both fun and aesthetically pleasing. The new 2019 Happier Camper HC1 edition continues with the trademarked Adaptiv system with even better design upgrades. Adaptiv is a system of modular blocks, or cubes, that can be moved around, stacked, and even removed and carried outside of the camper. The cubes can be used for seating, cooking, and more. I am a big fan of multiple-use items.
The best way to envision this camper is to start from the bottom – the floor. The molded fiberglass flooring is smooth. It contains grooves to accommodate the cube components. There are a few drilled holes into which you can insert table legs as well.
One of the features I really love is the built-in floor drain at the front of the trailer. You can actually hose down the entire interior of the trailer (once everything else is removed of course) for easy cleaning. This makes it simple to clean every surface. How cool is that? Especially if you like to deep clean once in a while. It ensures all surfaces are spotless, as there are no hard-to-reach corners or recessed areas. Since the entire hull and interior are made of fiberglass you don't have to worry about mildew or rot.
The cube components are light and easy to move. Each cube is a 20-inch square. There are also some larger components for special uses, too. The kitchen unit, for example, is a taller component with a sink, and space underneath for water storage. The optional cooler/freezer box is a different size as well. All of the components are designed to fit together.
You may adjust and recreate the entire interior, over and over, with almost endless possibilities: You could have just one huge bed, seating and a bed, an inside kitchen area with seating, or a lounge area with one or two tables. The modules can be removed and taken outside of the camper for extra seating. You can also remove the entire kitchen and use it outside. Nice for those who prefer to keep cooking odors out-of-doors.
Small But Spacious: the Happier Camper HC1 Makes Portability A Reality
The specs on this camper are ideal for fans of light travel. Dry weight (outer shell, architecture and interior moldings) is 1,100 pounds with a tongue weight of 110-150 pounds. The ratio of dry weight to tongue weight is important, and can be a problem if the tongue weight is either too light or too heavy. That should be 9-15 percent of the total weight of the camper for safety reasons. Too light and the camper will sag while pulled. Too heavy and the back of the camper will lift and possibly sway.
The tongue to shell weight ratio is just perfect in the Happier Camper HC1. The overall ultra light design ensures a safe and comfortable ride over any type of terrain, from flat to hilly or even mountainous. You can also load the camper with up to 2,000 pounds of extra weight for travel, which is plenty for this size unit. That means it's safe to add those treasures you wish to take with you. Whether you're a tech junkie, a book lover, or a dirt biker – it's all good.
Easy Towing Makes for Good Gas Mileage
As a part of the Happier Camper HC1 review, a mention of fuel economy is a must. The camper shell itself is 10 feet in length, making it one of the smallest campers available today. This means it's very easy to tow with most any midsize vehicle, with room to spare. Jeep Grand Cherokee and Ford Escape are two of the most popular options for towing, but don't discount others in the same class, or even a mid-sized car. You don't need a huge truck or V8 engine to pull a small camper. In fact, the manufacturer says it can be "towed with most standard cars."
Tow-able by Most Vehicles
Some RV'ers say that it is best to "trade up" if you are concerned about the ability to tow with your current car. You can often find something quite affordable with less than 100,000 miles that might be a good trade-in for your car, and provide you with a better all around travel experience.
You can also check out a few RV forums and find good information about towing. The forums are very popular with Rvers. They like to share their ideas and opinions on travel, as well as their tips on how to resolve mechanical issues of towing, repairs, and more. Check out RVUSA's forum and Escapees RV Network. Both of these provide an abundance of advice and friendly banter.
Good gas mileage, and the added ease of traveling with a compact camper can make for a luxury travel experience. Well, I suppose if luxury means saving those extra dollars to spend on a nice meal or take a side trip to a new attraction, which it does for me!
Safety Tip: According to Richard Newton, author of the Complete Trailer Handbook, a compact car should not be used to tow any trailer or camper over 6 feet in length. However, it is safe to tow a trailer up to 24 feet in length using a midsize to large size vehicle, including a minivan or SUV.  The aerodynamic and light construction of the Happier Camper may actually make it safe to tow with a sedan or regular car, and according to the Happier Camper HC1 brochure, it is safe to tow with most any car. Contact the manufacturer for more information.
Entrepreneurs Will Love the Happier Camper HC1 Design Modifications
Now, I can't write a Happier Camper HC1 review without talking about my favorite feature, its adaptability.
If you are a traveling entrepreneur, or foresee a need to change your mode of travel, this is definitely a good pick. The wide openings in both the rear and side allow it to function as a toy hauler to carry bikes, motorcycles or other equipment, while the panoramic side bay window configuration could be used for vending beverages or specialty food items like homemade chapatis or empanadas. The optional concession gas-lift fold-up window is a feature for vendors that is really awesome.
I plan to use it as a mobile office, taking along my products to show to potential buyers at specialty retail stores. I like that the overhead shelving comes standard. You simply can't have enough shelves. There are many other options available that will allow you to adapt the trailer to your specific mode of travel.
Being able to change on a dime is a true advantage when it comes to balancing work and home. Imagine hauling surfboards and hitting the beach on one trip, and the next sleeping under the stars in a national park.
The Friends and Family Modification
This camper reportedly sleeps up to 4 people, albeit potentially a bit cramped. But the optional bunk beds can help with that. You will also experience the comforts of home with AC and DC outlets throughout, a 14" 2-way ceiling fan that also cools, and 2" dense foam seat cushions comprised of one inch latex and one inch memory foam.
You can purchase the Happier Camper HC1 with a variety of different kits. Adapt the trailer for you and your tribe! For example, the Convertible Couch/Bunk Bed Kit includes basic seating for two people, a top bunk with all the cushions, and one nesting table. Note that any of the kits (there are also kits for Entrepreneur and Mobile Office) are add-ons to the standard features and will cost extra. However, the camper does come equipped with enough equipment, seating, tables, and cushions to get you started without too much extra out of pocket.
The "I Want to Be Alone" Option
Togetherness is great, but so is privacy, and quiet! Traveling in a small space with one other person can be challenging, let alone an entire family, all different ages; not to mention smells and degrees of talkativeness. You can separate once in a while by simply carrying your seating outside to create a separate little club. Or seating for one.
Maybe I will just sit here by the campfire, while you and Suzy argue about what kind of tree that is…
Happier Camper HC1 Review: Overall Score
I give the Happier Camper HC1 9.75 out of 10 points. Sure, it gets points for style, points for adaptability and points for functionality. So why not the full 10 out of 10? The only reason for the quarter-point deduction is the lack of an electric jack as an option, which really isn't a deal breaker – it's just nice for lifting the trailer to attach it to your vehicle without having to crank. This small trailer is not difficult to maneuver, but I am lazy and like things to be quick and easy. I would recommend purchasing an electric jack like the Lippert Power Tongue Jack. Sure, it's overkill for this little trailer, but it has a nice bright light and it's easy to use – both great for those late nights pulling into the campground.
Overall, I am enamored with the Happier Camper HC1 for its jalousie windows, its green and environmentally sound design, and its adaptability. This is one that will last many years, and is akin to the 10 year old Casitas you see on Craigslist still selling for over $10,000. Those are also fiberglass egg-shaped trailers, with potentially more storage but far less flexibility. The Happier Camper HC1 has a base price just under $25,000, similar to that of a new Casita. Both of these will last virtually forever, but I'd pick the Happier Camper for its versatility and style. Plus, it's made to order in the USA.
As you or your family grow and change, it's nice to have a camper that can grow and change with you. Especially if travel is something you like to do, whether as a tourist, an entrepreneur, or a secret agent…okay maybe I'm reaching on that last one.
So let me end my Happier Camper HC1 review with a strong recommendation for this cute little camper that delivers a retro feel with modern sensibility and tons of options. And most importantly, it's just fun.