Everki Atlas Backpack Review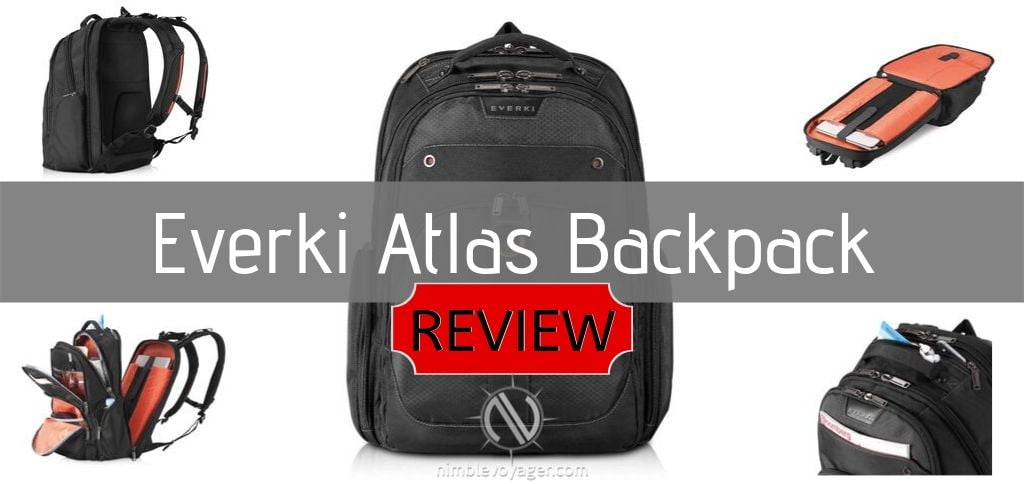 Disclosure: We may earn a small commission from some of the products mentioned in this post. If you click a link and make a purchase - at no additional cost to you - you help us keep this site online. Thank you for your support!
We love our backpacks and it seems there's a different type for nearly every use these days. However, when we started reviewing these things we noticed a significant gap in options designed for business travelers, specifically sales professionals. Enter our pick, the Everki Atlas in this backpack review.
A trade show can be loads of fun. It's also a wonderful opportunity to showcase your company's awesomeness, encapsulated in an exhibit that's sure to wow all. And best of all, you get to see the sights of a brand-new city while schmoozing with interesting show attendees. 
And, the after-hour events are a blast! All of this is incredibly exhausting however, so you better have a backpack durable enough to withstand the rigors of the trade show life. The compartments, pockets, and other features of this bag seem tailor-made for this. Read on for my review of the very capable Everki Atlas backpack.
Everki Atlas Backpack Review
Quick specs
Dimensions: 18.9″ x 13.5″ x 9″ (48 x 34.3 x 22.9 cm)
Weight: 3.8 lbs (1.72 kg)
Volume: ~32L
Laptop compartment: 16.5″ x 11″ x 1.6″ (41.9 x 27.9 x 4.1 cm)
Warranty: limited lifetime
Features of the Everki Atlas Backpack
This bag has an impressive feature set that makes it a great option for sales professionals. From the supportive and secure strap system to the myriad of pockets for swag, snacks and sales literature, it's a go-all-day pack.
Super Comfortable Strap System
I appreciated the five-point balance strap system on the Everki Atlas. It seemed to distribute my load quite well as I walked, exhaustively, from one length of the exhibit hall to the other. The strap management system was easy to adjust and I didn't have any unsightly danglers, as is often the case with other bags. Certainly a welcome feature when trotting through the hoards of other exhibitors during show setup.
The extra-padded adjustable shoulder straps made easy work of heavy loads. And the lower quick-slide and chest straps allowed me to fit the bag for maximum comfort. Additionally, the padded mesh lumbar support is a welcome addition. No more achy and sweaty lower back!
Funny enough, one of the best features of this backpack is the small top pocket. I found myself accessing it more than just about anything else on this bag. With a quick zip, I could grab my boarding pass, gum, or a business card. It's easy to open with one hand and right at the top of the bag, rather than on the front. This seems to give you more leverage and makes for a quick operation when swinging it forward from your shoulder. The top pocket is then right in front of you.
As a side note: This top pocket is also great for sunglasses. It keeps them accessible while away from anything that may damage them inside the bag. Also, having them on top reduces the chances of damaging them in normal travel.
The main front compartment offers several slots for organization. I kept my pens, ear buds, chargers, cables, etc. in this pocket. It's a great place to stash small things, including keys. While it has lots of little storage areas, I would like to see a few more pen loops. Typically, I always pack several highlighters, pens and mechanical pencils. With this setup, I only had space for four items (two in each pen pocket).
Tip: It might be worth grabbing something like this BagSmart electronics organizer to make packing your miscellaneous cables and such even more efficient.
The Everki Atlas has two additional front storage areas. The zippered flap pocket is useful for slightly larger items you might need on the go. I used it for snacks. It's at the lower part of the front of the bag. So, make sure you don't keep anything fragile in there. I learned the hard way with a crunchy granola bar.
There's also an innovative magazine sleeve just above the lower flap pocket. This really came in handy for sales literature. You never know when you might need a brochure and it was nice to have on-hand and easily accessible. It sure beats losing an opportunity because you forgot your lit. Better, yet, you look a lot more professional than if you had to rummage through your bag.
The large main pocket is much more spacious than I expected. While I didn't keep my sport jacket in there, I was able to pack a full change of clothes, including an extra pair of shoes. I was even able to stash a lightweight jacket that came in handy on a chilly ride back to the airport.
Tip: Use packing cubes to organize and compress your clothing. If done correctly, it takes up much less space and keeps items from wrinkling. We have a great review of The Best and Lightest Packing Cubes.
One of the biggest draws to the Everki Atlas is the huge laptop compartment. The company claims it will hold devices with screens up to 17.3″. I had no problem with a 17″ HP ProBook.
The well-padded flaps and Velcro straps make it easy to get a snug and secure fit. I also appreciated the opposing tablet sleeve in the same compartment. It's nice to have both devices secured within and then zipped up tight.
Tip: It's a good idea to measure your device before buying this bag. The available laptop space measures 16.5″ x 11″ x 1.6″. While it might be possible to "cheat" this in one dimension, it's better to stay within that envelope to ensure maximum protection.
Water Bottle Pockets with Zippers
There are two side water bottle pockets. While the zipper adds extra security, it limits you to smaller bottles. However, with an elastic loop and a zipper on each side that starts at the bottom and zips up, they easily accommodate taller bottles – even if not fully zipped.
I also noticed many of my DSLR lenses will fit into these pockets. But, I might not trust them without wrapping the lenses in extra padding.
While it may sound silly, I really like the orange interior of this backpack and I think it's feature-worthy enough to include in the Everki Atlas review.
Everki claims the high-contrast color helps you detect open pockets before you lose something. I can attest to this! I left the lower-front pocket unzipped and nearly lost all of my snacks. Fortunately, I noticed the orange color just before picking it up and tossing all of my eats across the trade show floor.
The Everki Atlas may be one of the more travel friendly bags on the market. Not only is it durable enough to handle the trade show circuit, it breezes through the airport as well. I particularly like the fold-flat feature. That means no need to remove your laptop from the bag at TSA security checkpoints.
The back compartment has a "U" shaped zipper that opens all the way from one side to the other. After I unzipped it completely, I could fully open the bag and lay it flat on the X-ray conveyor. That saves a lot of time in a busy airport security line.
Tip: If you pack two electronic devices (laptops, tablets, etc.), be sure to put them into the opposing compartments in the laptop area. In other words, don't stack them on the same side. The beauty of the lay-flat design allows the TSA agents to "see" through each device on the X-ray.
One other travel-specific feature is the luggage handle loop (aka "trolley handle pass-through"). This is a loop on the backside of the bag, between the straps. It allows the pack to slip over the extended handle of a roller suitcase. Basically, it sits on top of your other bag while you wheel through the airport. This serves two important functions. First, it keeps your bags together. The Everki won't slide off while you move around. Second, by having both bags coupled together, it's more difficult for a would-be thief to make off with your laptop pack.
My review of the Everki Atlas backpack wouldn't be complete without mentioning the things I would change. Honestly, I really like just about everything with this bag. If I were to change anything, I would add a few more pen loops in the organization pocket and make the side water bottle pockets a bit larger. Or I might leave the pockets as they are and add a larger, stretchy mesh pocket outside each of them to accommodate larger drink containers. I would also add a few external webbing loops to allow attaching other items to the exterior.
Everki Atlas Backpack Review: The Bottom Line
If you need a solid business travel backpack, you can't go wrong with the Everki Atlas. While it is a workhorse that can serve a lot of different needs, I found it particularly useful for sales calls and trade shows. The durable construction, solid zippers and array of storage pockets make this a winner. And the lifetime warranty offers peace of mind in your long-term investment. I would highly recommend checking out this one when you consider your next business travel backpack.