The Best and Lightest Packing Cubes – Reviewed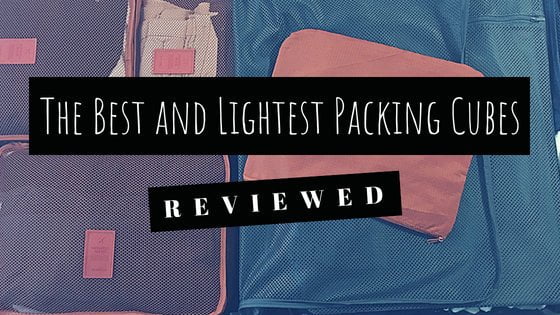 Disclosure: We may earn a small commission from some of the products mentioned in this post. If you click a link and make a purchase - at no additional cost to you - you help us keep this site online. Thank you for your support!
You know the scenario, right? You get to your hotel after a long flight and open up your suitcase – only to have your clothes pop out like the ol' snakes in a peanut can trick. Before you know it, your room looks like an F5 tornado demolished everything in sight. With our recommendations of the best and lightest packing cubes, this is a nightmare you will never again experience.
These are our picks for the best lightweight packing cubes for different travel situations. Click any one of them to read more or simply scroll down the page.
Packing cubes are containers you compress clothing into, and then you put each container into larger storage units like suitcases. With the right solution, you can arrive at your destination with clothing both wrinkle-free and perfectly organized. Packing cubes may even eliminate the horrible embarrassment of TSA agents seeing your dirty undies. You also get to spend more time sightseeing, and less time unpacking. And, you won't have to suffer the indignity of sitting on your suitcases in a valiant effort to make everything fit.
Compress all of your articles of clothing using these super-convenient bags, and you'll be better organized than ever before. Most packing cubes feature lightweight, easy-to-wash canvas or nylon construction. Plus, there are so many fun and fashionable colors. Some even come with mesh windows – a great feature which allows you to see exactly what's in each bag without having to open them. This also makes them breathable, so your dirty laundry can get a little fresh air.
Benefits of Lightweight Packing Cubes
A wonderful benefit of packing cubes is you can take a cube out of your suitcase, zip open the top, and place it in a hotel drawer. You don't even have to take your clothes out of the cube! Also, many of them have YKK zippers – the pinnacle in zipper technology and the industry gold standard. You'll literally flip over these bags and wonder how you ever lived without them! Now everything in your travel life will be beautifully and elegantly organized. The idea itself is a godsend, and these bags are excellent for organizing different styles of clothing – work, formal, play, etc. You can even put each family member's clothes in a different color cube. 
Packing cubes are 100% reusable. Make organization easy and fun for kids by having them choose their favorite color of cube. And, in a pinch, you can even use one as a pillow if you forget to bring yours on your vacation.
The Best and Lightest Packing Cubes for Every Style
With so many different choices, there isn't a perfect organizer for all situations. I've selected the best option for each travel style and need. These represent the current best of the best of lightest packing cubes.
The best bag for general travel and the best overall travel cube set are the remarkably durable Shacke Pak Packing Cubes. We at the NV are partial to the 5 Set, and with it, you get 4 medium cubes and 1 small.  These babies are made from high-quality nylon, are very water-resistant and are virtually impossible to rip or tear. Many travel connoisseurs consider these the finest travel bags ever made!
Shacke cubes come in 8 vibrant colors – Aqua Teal, Black/Blue, Dark Grey, Gentlemen's Blue, Green Grass, Orchid Purple, Precious Pink, and Warm Red. They also boast an aesthetically pleasing X-design web stitching, so the fabric doesn't fold in the middle. And the zippers have pull tabs for easy opening. The unique design is very strong and will keep everything tightly compressed.
These bags are 4 inches deep – deeper than most other travel cubes. The look and feel of the bags is excellent, and the quality double stitching indicates great seam reinforcement. These lovelies will last a very long time. I only wish they made a long narrow version. This would be great for socks and underwear so that they would fit snugly in either side of a suitcase. However, don't let that deter you. They are still amazing cubes.
As for how they made it to the top of our list: they're simply the best packing cubes we've encountered. They're attractive, extremely well constructed and we believe you really get your money's worth with this set.
For adventure travel, you can do worse than the Eagle Creek Pack It Specter Set. Two bags come with this set. These ultralight, stain-resistant nylon cubes are true compression bags, and this means you will really be able to maximize the total amount of packing space available to you on your globe-trotting expeditions. There are two zippers – one for closing up the bag initially, and one for compression. This second zipper allows you to fit even more into these versatile bags.
They also weigh less than half of other lightweight options, making them one of the lightest packing cubes available. You won't be bogged down on your trek to Kathmandu to see the storied temple of Swayambhunath, and because they are waterproof, they are great for camping and backpacking. A medium Specter cube weighs 1.8 ounces and packs down nicely to the space of a rolled-up tank top. The translucent 30-denier ripstop nylon construction makes these cubes extremely durable. Also, because it's translucent, you can quickly see inside the bag.
I only see a couple of potential challenges with these bags. First, the zipper may stick a bit. This is common to a lot of packing cubes due to the tight corner radius and a representative from Eagle Creek tells us they've fixed this on current production units. Next, the compression could be better. I say this because I have the regular non-compression Eagle bags, and was a little disappointed that there is only a modest improvement in the storage capacity of the ultralight Specter bags compared to the regular ones. However, both of these are minor problems, and the product as a whole ranks highly in the search for the lightest packing cubes available.
The best bags for minimalist travel are the ultralight eBags Hyper-Lite Travel Packing Cubes. There are 10 fun colors, and they come with webbing handles for easy carrying. You get 5 in all – 1 slim, 2 small, and 2 large. These bags weigh just 10 ounces altogether. That's not much, considering all the utility they offer. Plus, Amazon users rate these cubes very highly!
So, if you truly subscribe to the less is more philosophy, the eBags are your best choice. The spring-loaded design of the frame helps the cube keep its shape when you are filling it, and it has the requisite YKK zippers.
You also get the nice addition of corded zipper pullers for maximum ease. When you buy these bags, you will be pleasantly surprised to find a silicon coating on the interior of the cubes, which makes packing that much easier; your clothes will slide in nicely. eBags utilize the very same Cordura nylon construction of many tents, ensuring their durability.
I just wish the cubes had a little more structure to them. Even with the spring-loaded design, the bags tend to be a little floppy. This makes it a little hard to pack them sometimes. However, this is one of the trade-offs for the simple, lightweight design.
The best bags for business travel are the LeanTravel Compression Packing Cubes. This is a set of 6 cubes, including 2 large cubes for pants, 2 medium cubes for shirts, and 2 small cubes for everything else. These have an additional zipper for extra compression, much like the Pack It Specter mentioned above. Along with the cubes, they toss in a waterproof plastic zipper bag as well. It's a nice bonus you can use for dirty laundry or shoes.
I had a little trouble with the zipper around the corners, but it might have been limited to my set as others have not reported the same problem. Also, the fabric caught in the compression zipper the first few times I used these bags. You can easily overcome this problem by squishing down your bags a little more when filling them.
I love the way these bags look. They are stylish, fashionable, sleek, and very classy – perfect for the globe-trotting business traveler who wants a travel organization solution that is both pragmatic and professional-looking. While not the lightest packing cubes on this list, these more than make up for it in functionality and style. The speckled gray fabric with the red-label is both luxurious and attractive.
Best cubes for family travel? It has to be the Bagail 6 Set of Packing Cubes, by far. These cubes come with a carrying strap for convenience and are available in 13 fun and kid-friendly colors. They are also so well-built, they're nearly impervious to abuse by little tykes who will be attracted to their brash and bold colors. This wonderful set includes two each of three different sizes: Large (17.5″ x 13.7″ x 4″), Medium (13.7″ x 9.8″ x 4″) and Small (13.7″ x 5″ x 4″). Assign each color to a family member for a fun and effective way to keep everyone's belongings straight. These should be de rigueur for family getaways of any length. And what's more, when they aren't being used for vacations, kids can use them to bring books back to the library or as a case to store their toys.
There really isn't anything I don't like about these cubes for family packing. In fact, it might be a fun idea to let your kids pick their own color when you order them.
Also worth a mention are the Dot&Dot Medium Packing Cubes. These were my first choice for family travel until I used the Bagail set. Much like the other, the Dot&Dot cubes are well built and come in a variety of colors. However, the set only includes four bags and they are all the same size (13.5" x 9.75" x 3"), so you don't have the same options as with the Bagail's. Also, the structure is not as sturdy as some others on this list. However, this allows them to squish into tight spaces in your luggage and they are easily tucked away when not in use. All in all, they are a very effective option for family travel and certainly worth a look.
Packing cubes are an excellent solution for staying organized during trips, both short and long. Keep your clean clothes away from the dirty ones with this perfect solution to your travel organization needs and make everybody happy by giving each person his or her own color, synced to their individual personality. With so many styles from so many brands, there is no shortage of choice. Lightweight travel cubes are just the travel organization solution you've been looking for!